 Best Service in
the Upstate 200+ Years of
Combined Experience Pest Control You Need, Service You Deserve
American Termapest is proud to be the leader in pest, termite, and moisture control in Greenwood, Laurens, Abbeville, Newberry, Greenville, and surrounding areas of South Carolina. Whether you need
residential
or
commercial
pest control solutions, we offer fast, affordable, and long-lasting solutions guaranteed to keep pests at bay for good.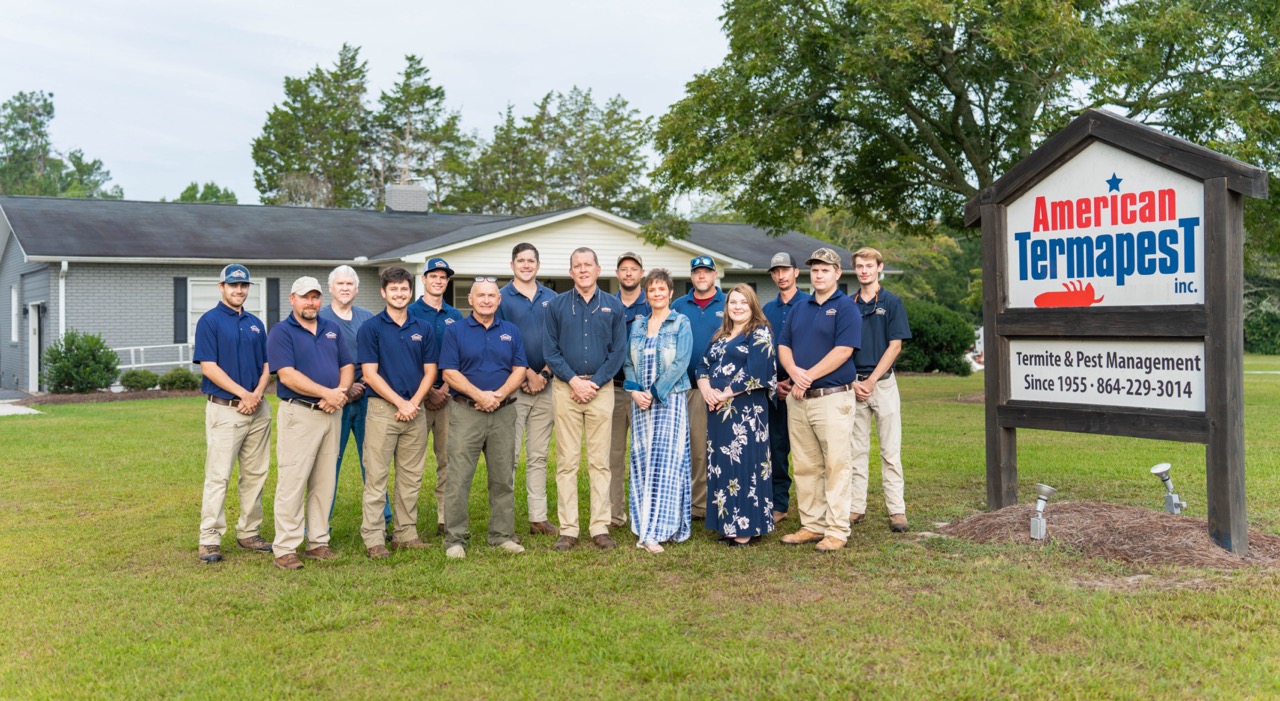 Our team is equipped to handle all of these common household pests and more.
What Our Customers Are Saying

Highly recommend! Hunter has performed routine pest/termite control services in addition to exterminating very aggressive yellow jackets. Hunter came out to my house the same day (after 5 pm!) to exterminate yellow jackets. He genuinely cares about his customers and wants to take care of their concerns in an extremely timely and professional manner. I appreciate Hunter's care and have been impressed with the service we have received! For someone who really hates any kind of critters/bugs, I have been exceptionally happy with American Termapest.

American Termapest has done a great job at my home every time they come do service. We initially began our engagement with a home inspection while we were buying our home, and they did such a thorough inspection, explaining every detail to me, my husband, and our realtor. We've been working with them since then (about 3 years) and never have had any bug issues! Really professional team as well.

In addition to insect extermination around the perimeter of our house, William treats our 4 patios/porches (including our screened porch), and he uses a long-handled brush to remove insect debris from the porch ceilings and other outer surfaces where insect debris collects. We also appreciate having the same technician come to our home each visit, and it's been the same person over a several-year period.

I wouldn't use anyone other than American Termapest! They are professional, friendly, and punctual, their prices are incredibly reasonable.

American Termapest is top-notch! Fast, friendly, and reliable service time and time again.

can't rave highly enough about them. they're punctual, friendly, super knowledgable, and will go out of their way to help in any way they can. we've had lots of different people come out over the years and they're the best. Hunter is great and knowledgeable - will be keeping our recurring service for years to come.

We have used American Termapest for 15 years, and we like their professional staff, especially the person doing the treatment. He always rings the doorbell and makes sure we are aware of his presence. He also provides feedback and communicates any issues he may find. We had to adjust our service and locations a few times and they are very understanding and helpful. I recommend them to all my friends.

Called them in for a CL100 for a new home purchase. They found things that the realtor's pest company missed. Very quick to respond and very thorough. Highly recommend..

American Termapest has a great knowledgeable staff who you can trust to provide ethical services—highly recommended for any pest control needs.

Great people inside the office and also the servicemen....been with them 17 years they have always given me great service and very polite…

The representative was very professional and knowledgeable. We are very satisfied.

Friendly thorough service.